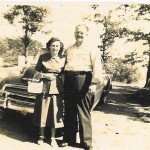 Early 1950s, Viola & Avery Waycaster, Renee's beloved grandparents and mentors.
"Live as if you were to die tomorrow. Learn as if you were to live forever."  — Mahatma Gandhi
That famous quote is how I try to live my life.  Having been raised by my grandparents, I had no choice but to excel.  Both of them had dreams, but most of all they had the drive to do what needed to be done and to take time for the little things.  I learned by example from them and I still learn something new every day.
Many people believe that school is where you learn.  School is where you get the foundation; everyday life is where you truly learn.  If your mind is a sponge, you tend to seek knowledge everywhere you go and in everything you do.  My grandmother was a passionate writer but kept her musings tucked away.  When she came across a difficult task, she trudged forward until it was conquered.  My grandfather gave up his secure job after World War II in order to fulfill his dream of owning a grocery/general merchandise store.  He and my grandmother worked long hours, 365 days a year, for over 40 years.
I have my grandparents' genes.  When I set my sites on something, I obsess until I find a way to reach the goal.  I'm a wife, mother, entrepreneur, gourmet cook, avid reader, passionate writer, a diligent collector of dolls, house plants, and books, and I'm a doer of things.  I'm always helping people by answering questions, giving advice, or helping someone figure out how to solve a problem.  Blog By The Moon helps further my quest.
I hope you enjoy my writing.  Renee