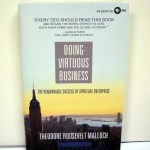 Being a huge fan of Chick-fil-A and Truett Cathy's faith-based business model, I was curious about Malloch's thoughts on how other virtuous businesses sustain.  His compilation and explanation of how faith-based businesses work and thrive was enlightening.  The behind-the-scenes working models were educational.
The book is broken down into easily readable chunks so that even the busiest person can read it and gain insight.  I gave it four stars because Malloch's writing style was distracting to me.  Written more like a term paper or thesis, I feel there was too much focus on justifying what had been written.
There are many quotes and passages from the book that are memorable to me.  One such quote from the book, "If evil enters the world, let it not be through me" is a Russian credo adopted by Malcolm Pearson.  This is such a simple statement that has a reverberating impact when employed.
The message was good and the book was well worth reading, whether you are in business or not.  From the examples of other business people, you can walk away with usable ideas applicable to business as well as your personal life.  The content of the book deserves five stars.  Everyone can benefit from reading this book.
Disclosure of Material Connection:  I received this book free from the publisher through the BookSneeze®.com book review bloggers program.  I was not required to write a positive review.  The opinions I have expressed are my own.  I am disclosing this in accordance with the Federal Trade Commission's 16 CFR, Part 255 "Guides Concerning the Use of Endorsements and Testimonials in Advertising."